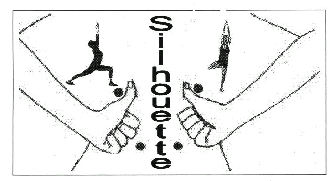 SILHOUETTE
invites you
at
a BBQ party
Body Bodies Quest Party
In ROME -ACILIA (ITALY)
On Saturday and Sunday
with Diagnosis, Yoga, Massage, Meditation and other holistic techniques. (Aromatherapy, Cristallotherapy, Hydrotherapy, Prana Management, Musicotherapy etc.... ;)
You may choose between
1 - Two hours of personalized individual session.
10h to 12h
Or 15h to 17h
19h to 21h
2 - Half Day (4 hours)
14h30 - 18h30
3 - One day, Saturday or Sunday with Panchakarma (technique of purification) personalized.
9h to 18h (9 hours with lunch)
4 - Two days in weekend with Panchakarma and/or Rasayana (technique of regeneration) personalized.
9h to 18h
(Could be residential with other activities in the evening and morning)

All the techniques are simple practices which could be carried out, once known, at home
For more information:
To contact: Tel: (39) 06- 52362326 evening hour or (39) 328.888.3725 or cyberjax@alice.it
PREVENTION IS THE BEST MEDICINE
RESTORATIVE PRACTICES FOR FITNESS
NURTURE YOUR BODY, MIND AND SPIRIT
EXPLORE,EXPLORE,EXPLORE
WITH A PLAYFUL AND CREATIVE PATH OF AWARENESS
contact

Return to Home Silhouette