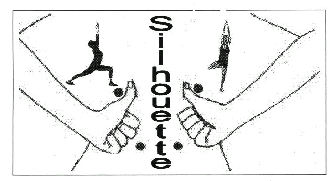 BODY AWARENESS
Self inquiry, self diagnosis and Practice
In order to participate in life, as fully as possible , we must cultivate AWARENESS
WE HAVE TO LEARN, KNOW AND MASTER OUR BODIES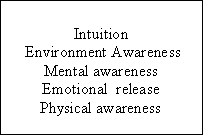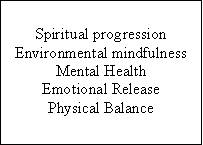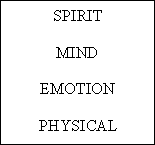 LET US BE INTUITIVE AND CREATIVE
LET US USE THE RIGHT SIDE OF OUR BRAIN
Tools

Techniques

Objective

Intuition

spiritual development

Environment awareness

Self lifeforce management

Vedic Astrology - Muhurta

development of life force , of light quotient

mental awareness

Visualisation

Self-hypnotism

Active Meditation

development of consciousness

emotional release

emotional mastery

physical awareness

physical mastery
PROCESS FOR SELF-ENQUIRY – SELF DIAGNOSIS – PRACTICE
The different steps are
1-Awareness - sensitisation
2-Analysis
3-diagnosis
4-goals and priorities
5-identification of tools within an integrated approach :
diet, herbs, cleansing, exercises (Yoga, massages , pranic management etc…), positive thought, colors , gems and sound , meditation
6-Life plan
-daily rhythm
-weekly routine
-monthly cycle
7-autoinduction to reprogram automatic pattern
8-Practices
9-auto evaluation
10- adjustment
DISEASE IS A GOOD SIGN OF IMBALANCE
Ask and we will get little voices, little flashes, little feelings. Inner voices are the most profound teacher to learn about ourself , to receive inner guidance , to act upon our intuitive thoughts. By consciously practicing with an awareness of our body, we can gain more strength and personal power for wellbeing, health, creativity and spiritual development
Learn to feel the sensation within our body, after any action., any exercise, any massage, any meditation, anything we have taken , eaten, drank etc...
Check out what our attitude is. A negative and judgmental attitude can be an obstacle to our experience by blocking off the positive aspects within us and surrounding us. When we let go off that rigidity and negativity , we can regain clarity . With a positive attitude we can go deeper and deeper inside ourself and we will live a deeper , fully life.
Forgiveness
Forgiveness is a powerful tool for mental and emotional release.. We do not realize but we have to forgive ourselves and others of many many many small and big negative situation and events, which , unfortunately are accumulated in our thought, memory. Slowly, they become "Cancer". Let us use more often and effectively the different systems we can apply for forgiveness.
Are our chakras balanced ? The seven chakra are energy vortex that govern our physical, emotional, mental and spiritual well being. All marma and meridians relate to one of these centers. they have also influence on nerves plexus, endocrines glands and internal organs. Different techniques can be used to balance the chakras : breath, color, gems, essential oils, sounds, music etc.. exercise works also on certain chakra, by flexing, stimulating, stretching areas of the body..
What are the characteristics of our imbalance? . All diseases are produced by an accumulation of the humors. Almost any disease can be caused by VITA, PITTA , KAPHA, so we have to examine fully all signs and symptoms.The disease process is the same in all diseases. It varies according to humors, stages, direction of movements of the humors, and sites where they become deposited. Ayurveda affords us a beautiful, simple, yet comprehensive understanding of the disease process which allows us to treat the disease at right stage. By understanding this process and following the right regime in life for our constitution, we prevent the humors from accumulating and thus cut off the disease process at its root.
Check out where are the tension and rigidity on our body.The posture of your body relates to how we feel. Each posture and pose influences certain muscles, organs, nerves, endocrine glands, and meridians. Our bodies have different needs and abilities. Yoga is an art of releasing tension. Instinctively , we use our hands to hold areas where there is pain and pressure, to help release the knots of tension. In practicing the exercises, we can learn to adjust our hands and body weight and hold the blocked areas. Once we are on the tense and rigid area and our body position is confortable, keep our body still for a while. In this way we can deeply but gently work on releasing our tensions. Focus on your breath when you do feel pain. Lonng , deep breathing is a key for opening up tighness . The breath is the key for self-awareness to develop flexibility and elasticity , especcially of the spine, foundation of the body. Yoga postures work on all the various part of the spine.
The marma and organ meridians are points and channels where life energy circulate throughout the body. They are connecting the twelve organs with all other physiological, sensorial, and emotional aspects of the body. The twelve organ meridians are the lungs, large intestine, stomach, spleen, heart, small intestines, bladder, Kidneys, Pericardium, triple warmer, gall bladder and the Liver. Marma points can be used in self massage or massaging others in order to balance energies, restore normal function , energize or relax.Marma point which are blocked our out of balance will be more painful. The stimulation through the massage will energetically free up the point.
MAIN BODY DEFORMATIONS
Return to Top
contact

Return to Home Silhouette